How To Live Big in a Small Space
Do you live in a small space? (Or, do you have small spaces in your larger home?) There are all sorts of things you can do to maximize small spaces, to help them "live larger" so-to-speak, so you don't feel cramped. Here are seven tips to keep in mind.
---
Quick tips for maximizing small living spaces.
Seattle is booming! While we may live amongst old growth forests, the growth we're experiencing is relatively new. And, this isn't just a trend in our Emerald city — cities across the world are experiencing an increase in density. As urban areas continue to expand, the spaces we live in become tinier and tinier. So, how do we live comfortably in a tinier space? How do we make these smaller square footages feel like home? Here are some quick tips for maximizing your tiny space!
Think Vertically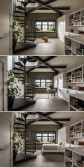 What your space may lack in square footage you can make up in what you can do with your walls! Bookcases, shelving, and wall-mounted furniture — such as murphy beds and drop down tables — are great ways to maximize your storage options. We love the idea of multi-function built-ins, as these can also create some architectural interest in your space.
Light, Bright, and Open

Now I'm not saying to have bare white walls that make your space feel like an institutional cell, but having more white walls does give the illusion of more space. White reflects light, which helps to make a space seem larger than it actually is. Some ways to add that bright white into a space without having blah and bare walls is through materials such as tile, shiplap siding, and casework.
Sliding and Pocket Doors

Door swings take up a lot of clearance, and that is space lost! Pocket and barn doors give back that floor space while still allowing for lockable privacy. These type of doors are also a great way to divide a space, closing off larger spaces into more private areas, if need be. Plus you can really get creative with these doors, making them into more of a design feature than just a basic functional element.
Small Scale Furniture

Heavy pieces — such as large sectionals, club chairs, and canopy beds — tend to be overwhelming in a small space, visually taking up more space, even if the dimensions are the right size. Furniture with slim legs and negative space — such as many midcentury pieces — give the illusion of more space, thanks to their open frames.
Floating Bathrooms

The same rule of heavy furniture applies to casework. Floating vanities with space underneath help to give the illusion of more space by balancing the positive and negative spaces of the wall. To further maximize square footage in your bathroom, we recommend wall-hung toilets. This can save you around a foot of space with the water tank hidden in the wall. (Here's a bit more on designing for small bathrooms.)
Furniture with Storage

Even though chests, trunks, and armoires take up a lot of space visually, sometimes these items are needed if you have too much stuff and not enough storage. As with the vertical storage, we love the idea of built-ins. Take for example this reading nook bench. It's a perfect place for some under-seat storage.
Less is More

Paraphrasing from the famous architect Ludwig Mies van der Rohe, one way to make a small space feel bigger is to not cram it with stuff. Now I know, Minimalism isn't a design trend for everyone, but there is something to be said about our society and the amount of sh*t we accumulate. The amount of stuff we acquire may not seem like a big deal at first, but slowly, overtime, we build up our squirrel nests of stuff until one day we pause and ask ourselves, "How the hell did I end up with all this crap?" This is true in many cases, but trust me, when you live in 500 (or less) square feet of space, it becomes a daily mantra, as having even a little clutter can make the whole room feel like a tornado came through a hoarder's home. A cluttered home = a cluttered mind.
A good set of questions to ask when accessing the 'stuff' in your life is:
When was the last time I used this?
Do I really need this?
Does this bring joy and completion into my life?
Doing a purge and reevaluation of the items in your life can not only make your space feel better, but it in return can benefit your wellbeing on a psychological level.
Live big in your small space!
You don't have to follow all these recommendations, of course. Pick the ones that work for you, and if you're working with a designer, bring it up, we are always happy to help. And, hey, even in large houses, there are small spaces within that can benefit.